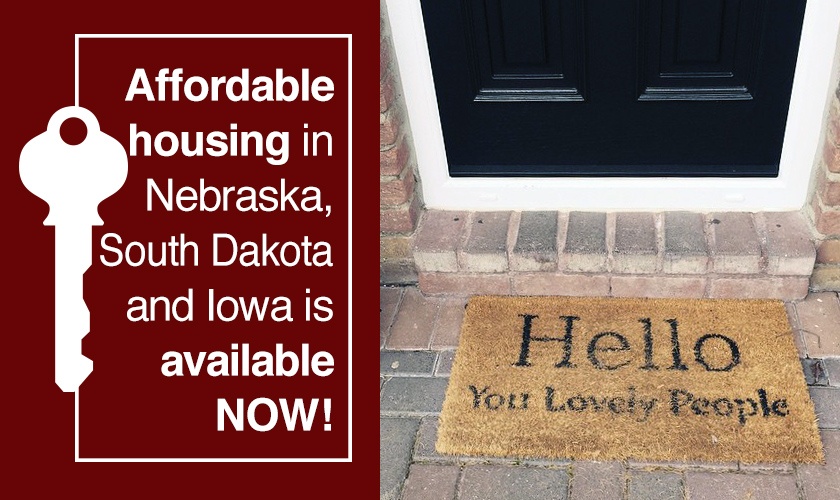 Oakleaf Property Management is excited to announce several rare openings in our Iowa, Nebraska and South Dakota properties. Now could be your chance to find affordable housing that meets not only your standards for quality, convenience, and service but also your financial needs.
Everyone deserves to live in a good, affordable home. Explore our available communities below!
For residents 62 years of age or older and those with disabilities, Lakeland Park Apartments in Clear Lake, Iowa offers appliances and utilities with a single rent payment. This beautiful property features several community amenities, including an on-site laundry facility, library, and picnic areas. All at fantastic location near churches, grocery stores, gas stations and minutes from the lake. Several of our apartment homes are open-concept and barrier-free, making it even easier to take advantage of what our community and the area has to offer. Apply now.
Eligible residents pay 30% of their adjusted annual gross income at Somerset Apartments in Holstein, Iowa, and rent includes a long list of residential and community amendments. Residents enjoy apartments with wall-to-wall carpeting, fully equipped kitchens, large closets, and included utilities. They also can take advantage of the community room, elevator, and on-site laundry facility all within a controlled-access environment. Somerset Apartments provides quality and affordable housing for persons 55 years of age or older or persons with a disability. Fill out an application.
Kingston Apartments welcomes residents who are 62 years of age or older, as well as those residents with disabilities. A friendly environment both inside and out, Kingston Apartments features a large community room complete with a kitchenette as well as on-site laundry, 24hour maintenance, barrier-free units, and controlled access. From the charming courtyard to its included appliances and large closets, this Kingsley, Iowa gem can't wait to make itself your new home. Learn more.
If you have a disability or are 62 years of age or older, Woodland Park Apartments in Fullerton, Nebraska offers a great place to meet people, unwind with a good book, or explore the local setting. Its one-bedroom country-style cottages feature well-equipped kitchens and wall-to-wall carpeting, and electricity, heat, and water/sewer are included in your rental payment. Complete with a media center that includes internet, a community room, and on-site laundry, Woodland Park Apartment Homes provides a quality place to live with income-based rent. Apply today.
The focus of Oakleaf Property Management has always been to provide an outstanding residential experience for all of our communities. We work in accordance with the Nebraska, Iowa, and South Dakota Housing Authorities to help our applicants receive the financial assistance they need to achieve the high standard of living they deserve. We take pride in making what could be a complicated ordeal very simple and work hard to create a process that is both effective and rewarding.
You may be eligible for assistance and not even know it. The only way to check is to apply.
Your new home is waiting.