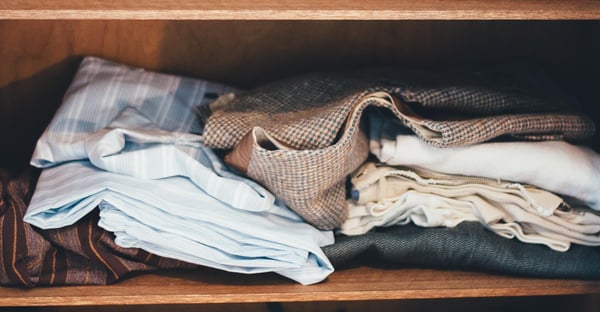 When you're living in less than 1,000 square feet, every inch of it needs to be used as efficiently as possible. There are several, inexpensive ways to organize your apartment that are not only aesthetically pleasing but can make your daily living easier and more pleasurable.
Double-Duty Storage Solutions
Go up for more space. Use inexpensive tiered baskets made for kitchen produce, available at Walmart, to keep bathroom essentials organized. One tier holds soaps and lotions, the other hand towels. Plus it's portable.
Take a page from Julia Child's book. Install a pegboard. The famous chef hung all of her pots, pans and kitchen utensils from a pegboard. Pegboard can be found at any home improvement store for about $20, depending on size. Not only is kitchen gear right at your fingertips, but it makes excellent use of empty wall space.
"File" away your sheet pans. Attach a $10 to $15 file folder organizer to the bottom of a cupboard to keep serving platters, cutting boards and sheet pans neatly organized.
Keep styling tools contained. Hang over-the-door baskets, like this one for $15, on the inside of bathroom vanity doors to keep hair dryers where you need them while using up the empty space.
Storage bins are everything. Storage bins are super inexpensive, you can grab them for about $5 at Walmart or Dollar General, and come in a variety of sizes. Use them in drawers to sort clothes and in the kitchen to tame Tupperware. They are also lifesavers in closets and pantries.
Decorate For Small Spaces
Don't waste any space. Use every nook and cranny to your advantage, like installing simple corner shelves for extra storage. You can find single shelves for under $20 and add more as needed.
Look up. Mount shelves above doors and even windows to store books or your decorative items. Just make sure you can access these items, or place things you'll only use once in a while.
Make your sink work. Use a drying rack that can be placed over the sink, like this one from Rubbermaid for $6, for drying dishes without giving up counter space.
Rethink your furniture. IKEA is the king of creating furniture for small spaces. Its pieces can usually be moved around and have built-in storage, plus they are priced right. You can implement the same principles yourself. For example, use a storage ottoman for a coffee table.
Shelves are your friend. Everything looks better on shelves and they keep your items organized and off the floor, plus they come in a variety of price points. Use shelves in the place of an entertainment center or in the bathroom above the toilet to hold towels and toiletries.
Keeping your apartment neat and tidy doesn't have to break the bank. Once you integrate some of these ideas, you'll wonder how you ever survived without them!