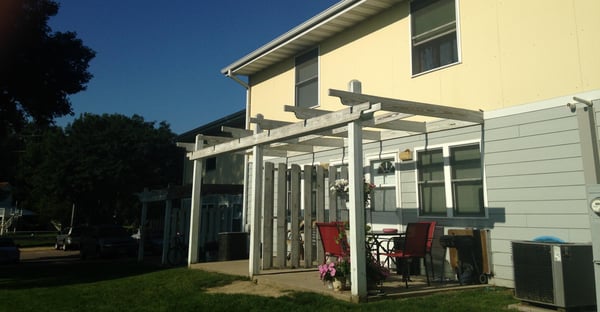 Winter always feels like the longest season of the year, and for those of us in the Midwest, it usually is! But even though temperatures are still fluctuating from freezing to manageable and snow could fall at any time, spring IS just around the corner. Instead of waiting for the weather to turn, get a jumpstart on this season of renewal by freshening up your apartment.
Declutter and Improve Storage
The best way for an apartment to feel like it's got high design, even in low square footage, is when it's not cluttered with stuff. Take stock of what you have and clear away (or donate) those items you don't use. You'd be surprised how much cleaner your space looks with even one less piece of furniture. Maximize your storage and your style at the same time by putting bins under your bed, building or buying some floor-to-ceiling wall shelves, and upgrading to ottomans and coffee tables that have additional storage.
Reconfigure Your Floor Plan
An open floor plan is more popular now than ever, but it can be challenging to divide up the space, particularly when one room must perform more than one role, like a dining room and a living room. If this is your situation, look for dual-purpose furniture like dining room chairs that can be turned to make additional seating in the living room. Use dividing pieces, like an open bookshelf, a low credenza, or a large plant, to help break up the room.
Add a New Rug
Area rugs can give new life to old spaces, plus they're much nicer to walk on with bare feet than hardwood and linoleum floors. Make sure to add a non-slip pad to the underside or purchase rugs with a rubberized backing to prevent bunching and preventable slips and trips. Area rugs come in all sizes and price points but note the higher the price, usually means the thicker and softer the rug.
Add Removable Decor
Vinyl wall graphics are an apartment renter's best friend. These pretty quotes and big, iconic images are easy to install and remove as your designing tastes change. They attach right to the wall and peel away cleanly, allowing you to really cling to a design style without fear of losing your security deposit.
Grab Some Green
Plants help to warm up a room while purifying the air. They can also provide a small space with additional humidity, which helps a colder apartment make better use of the heated air it has. Some of the best houseplants to buy, when it comes to care, are pothos, snake plant, cacti, succulents, bamboo and ficus.
Get a New Apartment
Moving into a new apartment is the best way to get a fresh start. We have apartments in Iowa, Nebraska and South Dakota. Check out all our different complexes and download a rental application here to get started.