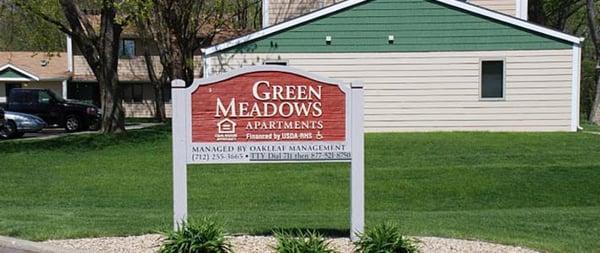 Green Meadow Apartments in Mitchell, S.D. are the perfect setting for a family. Set in the home of the World's Only Corn Palace, Green Meadow Apartments offers the best of living in a single-family house with the convenience of an apartment.
The Inside
Green Meadows Apartments features 20 townhomes with two and three-bedroom floor plans. These spacious townhomes have all the amenities you and your family need, right at your fingertips. We've thought of everything: large closets, pantry space, washer and dryer hookups, appliances, window air conditioning, carpeting, and deadbolt locks. There's space for everything and everyone in your family.
The Outside
The outside has everything you'd want in a house – a yard, garage, outside parking space and an onsite playground – all in a wooded residential setting that is close to schools, shopping and public transportation. Have coffee on your patio, play with the kids in the yard; townhomes offer the same great amenities that a detached home has to offer.
The Convenience
While Green Meadows Apartments offers all the best amenities of a family house, it also offers the convenience that living in an apartment provides. This includes 24-hour maintenance, lawn care and snow removal. You'll never have to worry about fixing a leaking faucet, mowing the lawn, or shoveling snow.
The Community
The best thing about Green Meadows Apartments is the community. Mitchell offers the best of small-town living with bigger possibilities. It has a ton of extracurricular activities for the region including hunting, fishing, and community theater. Plus, there are unlimited opportunities to start a business or find a dream job. As far as your child's education, Mitchell is the perfect spot for them to sprout and grow. It offers multiple options for daycare and pre-school, three public elementary schools, and a wonderful middle and high school with private school options. Looking to further your own education? Mitchell is also home to Dakota Wesleyan University and the Mitchell Technical Institute.
Apply Now
Ready to give small-town living a try? Green Meadows Apartments offers rental assistance to those who qualify. Eligible residents pay 30 percent of their adjusted gross income and applicants may have assets, cash, savings, stocks, annuities, etc., and may still qualify for housing! Income guidelines apply and a security deposit is required.
Fill out a 'Rental Application' online or Contact Us and we can provide you with details. There is no application fee. We have immediate openings. Please Apply Today!