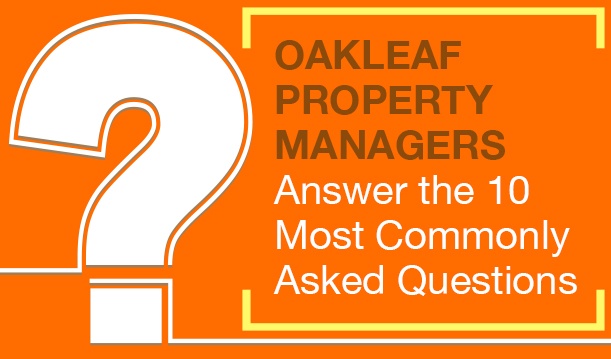 Our property managers sat down recently to talk about the questions we most commonly receive from residents and applicants across our properties in Iowa, Nebraska, and South Dakota. Keep reading to find out how to make the most of the Oakleaf experience and your apartment home.
I just turned in my application. How long does the verification process take?
Applications can take anywhere from 2 days to 2 weeks to verify, accept, and complete. The length of the application process will depend on how long it takes to verify your income, your employment, your disability information, and so forth. To speed up the process, please make sure to provide all requested paperwork with your application.
How many people are allowed to live in one apartment?
Occupancy standards are typically two persons per apartment bedroom.
I'm all moved in and would love to personalize my apartment. May I paint the walls?
We love that you want to customize your space, however, painting the walls is not permitted.
What about hanging curtains and pictures?
Absolutely! In fact, you'll need to make sure you have window coverings in place within 30 days of moving in. By all means hang curtains and pictures. They are a great way of making your apartment feel like home. When and if you move out, take special care removing your art and wall hangings as you will need to spackle and sand all nail holes (we'll take care of the painting, etc.).
I've been in my apartment for a year. How do I renew my lease?
After your initial lease term of 12 months, your rent will go on a month-to-month status. While your lease will need to be recertified each year to ensure you are paying the appropriate rent, no new lease agreement will be needed.
Can I get my carpets cleaned?
Yes! You can and probably should get your carpets cleaned on a yearly or otherwise regular basis. There are many carpet cleaners we can recommend in northwest Iowa, central Nebraska, and southeast South Dakota. Or you can use a carpet cleaner you already know and trust.
I'd like to meet more of my neighbors. Do you have community functions or ways to meet people?
All of our Oakleaf offices will occasionally host community events to encourage residents to come out and meet each other. We also have resources on how to engage in the local community, how to form your own social clubs, and how to make the most of living in an apartment building, which is a social event in and of itself.
When is rent due?
Rent is always due on the 1st of the month, regardless of holiday or weekend. A late fee of $5 is applied on the 6th of the month, plus $1 each additional day the rent remains unpaid.
What happens if I can't pay my rent?
Please contact your Oakleaf property management office as soon as you know you will be unable to make a timely rent payment. We may be able to offer suggestions on where to find additional assistance. We can also further explain the rent collection process and fees.
Who do I call if I have questions?
We are here to help you! Please contact your on-site Community Manager or Service Coordinator if you have any questions or concerns about your lease, your apartment, or the community. Or you may contact the Oakleaf office at 712-255-3665 or 1-877-521-8750.
Make Oakleaf PM your new home. Click the link below to submit your application.