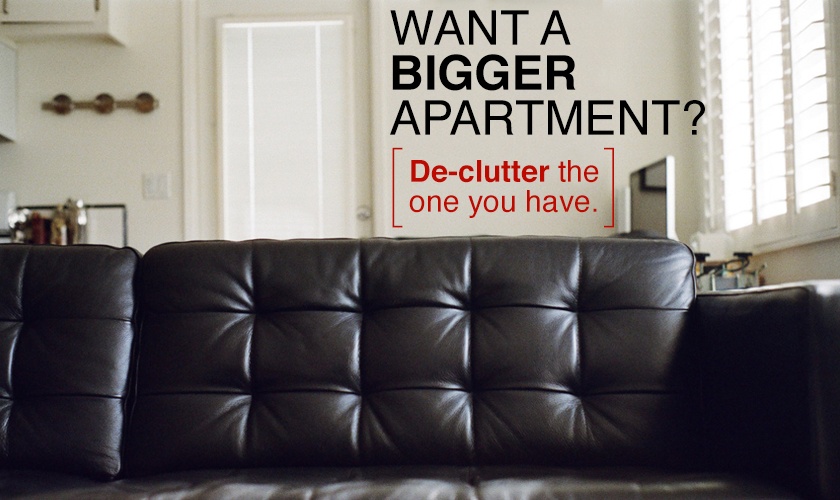 Keeping an apartment organized and tidy isn't easy. With square footage at a premium, one stack of paper and one pile of clothes can dwarf an otherwise open floor plan, turning it from cozy to cluttered pretty quickly. The smaller the space, the more critical it is to keep it organized and clean; the less clutter your apartment has, the better it—and you—will feel.
Here are four tips to help you de-clutter your apartment and organize it to its fullest potential.
Think double duty.
Furniture that doubles as storage is a must in apartment homes. Ottomans that serve as blanket chests and dressers that serve as foyer tables are two great ways to make sure every inch of your apartment is being put to smart use. Also, look at what spaces in your apartment are being wasted; for instance, use the space under your bed for seasonal items that you can swap out throughout the year or find some over-the-door shoe organizers to store everything from shoes, bathroom supplies, accessories, and outdoor or pet gear. They are perfect for almost any room or closet!
Put your walls to work.
If your apartment walls could talk, they would probably ask, "What are you waiting for?" Walls aren't only ideal for hanging the pictures that would otherwise clutter your end tables; they are also perfect for shelves, bulletin boards, and magnetic calendars. Put your walls to work, and you'll soon find that the clutter that typically takes over your countertops and dining room table is a little easier to wrangle. And to find.
When in doubt, throw it out.
And by "throw it out", we really mean donate. Unless it's trash, then by all means toss it. Clearing out even just a few items will do wonders for your living spaces as well as your overall mood. Studies have shown that there is a link between clutter, depression, and anxiety, from over stimulating our senses to creating feelings of guilt or embarrassment. Add that to the frustration of never being able to find things, and you have a real mess on your hands. If you find yourself with more things than you use or need, you aren't alone; however, it's important to start reclaiming your apartment for the sake of your peaceful state of mind.
Don't do it all at once.
Unless you are extremely motivated, de-cluttering and organizing your entire apartment in one day can be overwhelming. So take it one day at a time. Commit 30 minutes each day to purging and organizing a section of your home, be it the silverware drawer or a portion of your closet. Set a timer if you must. Your apartment will begin to feel better almost immediately.
We at Oakleaf Property Management want you to make the most of your apartment home, no matter how big it is. If you have any questions, just give us a call. We're here to help.