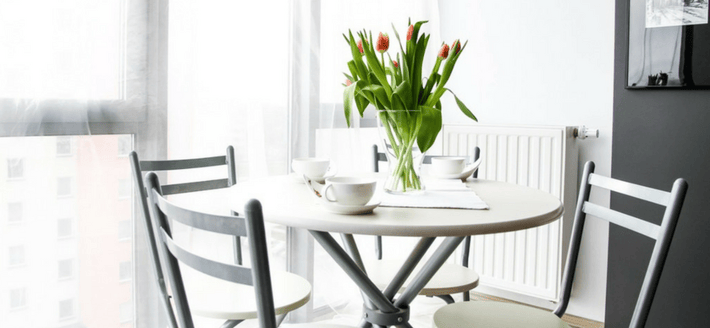 Blank white walls, boring carpet, and outdated fixtures can make your apartment feel more like you're living in a waiting room than in your home sweet home. Here are 6 DIY ways you can upgrade your rental and still get your deposit back. All you need is a bit of creativity and some elbow grease.
Lighting
Renting means you'll probably end up with a lot of space but not a lot of light. Don't just wait until the holidays arrive to buy LED lights to hang around your property. Consider lamps of every size and shape — for the desk, for the floor, and even for bathrooms. Coordinate it with your windows to make sure you have just the right amount of brightness for each room.
Plant Your Décor
The benefits of adding living décor in your home are countless. Most indoor plants purify indoor air, add beauty, and make your apartment feel homier. If you don't have a green thumb, look into buying low maintenance plants like succulents. If you really, really don't have a green thumb, you can buy fake plants that look like the real thing to trick your friends into thinking you're an adept gardener.
Room Dividers
Changing the structure of your apartment is obviously out of the question. Create extra rooms and spaces to fit your needs with room dividers. Many of them don't have to be attached to a wall or a ceiling—which passes the Oakleaf divider check. These dividers come in handy if you need a home office, separate bed rooms for the kids, or a guest space.
Lounge around
Floors can be a huge problem in many rentals, but you don't have to live with scratched hardwoods and stained carpets. Place small rugs over hardwood and even carpet to clean-up your look. Consider purchasing bean bags or comfy ottomans. This is especially popular for those who like to have others over.
Gallery Wall
If you have a ton of family photos, framed artwork, and ugly blank walls, you should definitely consider putting up a gallery wall. A gallery wall is perfect for displaying your photos, but it also is an easy and harmless way to decorate your boring apartment walls. If your landlord says no to nails, there are plenty of alternatives. In some cases, minimalism is best.
For more great tips, follow us on Facebook and keep reading our blog. We're always sharing ways you can make the most of your apartment and community.
Looking for a place to decorate to your heart's content? Oakleaf Property Managment would love to have you as a resident.